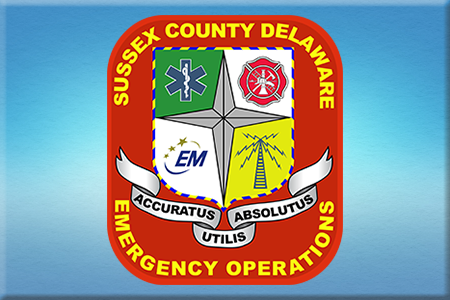 Sussex County's public safety shield will get a chance to shine during an annual exposition next month aimed at educating children and adults alike about the emergency services community and what police, firefighters, medics, and dispatchers do every day.
The Sussex County Emergency Operations Center will host its annual 9-1-1 Awareness Day, from 9 a.m. to 2 p.m. Thursday, Oct. 12, 2023, at the public safety complex, located at 21911 Rudder Lane, near Georgetown, to give the public a behind-the-scenes look at how the facility and first responders serve the community 24 hours a day, 365 days a year.
This year's event – the first since 2019 – will feature a fun and information-filled day of safety demonstrations and emergency vehicles on display, from police K-9s subduing pretend perpetrators to fire trucks, EMS units, and police units. The event is free and open to the public.
The event is held annually to give the public a better understanding of how the 911 center operates, as well as showcase how police, firefighters, medical personnel and emergency dispatchers work each day to save lives. The event also attracts hundreds of fifth-grade students from throughout the county, who spend the day watching and taking part in demonstrations that reinforce safety and preparedness.
In addition to tours of the 911 center, as well as the newly added EMS wing, displays and activities will include the Delaware State Police K-9 team, the Dagsboro Fire Company Safety House, the Delaware State Fire Marshal's Office, the Delaware State Fire School, the Delaware Emergency Management Agency, and the Delaware Department of Natural Resources and Environmental Control. Meantime, there will be more than a dozen police cars, fire trucks, ambulances, paramedic units, and County and State mobile command centers on display.
Sussex County DE AUXCOMM will be participating with the Mobile Command Unit (MCU) as part of 9-1-1 Appreciation Day. Plans include display of equipment, information about Amateur Radio, and possible tours of the MCU. Why not join us helping to show the public what amateur radio is all about? Wear a reflective vest and and bring an HT if you have one. Park as directed and join us at the MCU.